[vc_row full_width="" parallax="" parallax_image=""][vc_column width="1/1″][vc_column_text]Mary Peachin: Writer, Photographer, Adventure Traveler!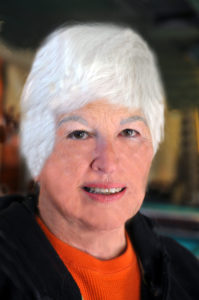 Mary L. Peachin is a freelance adventure travel writer, photographer, author, and lecturer. She has published and edited Peachin & Peachin Leaders in World Adventure since October 1996. Alpha/Penguin published her first book, The Complete Idiots' Guide to Sharks, in 2003.  Scuba Caribbean (University Press Florida) was released in late 2008, and Fishing the Caribbean,  with Foreword by Doug Olander (Editor-In-Chief of Sport Fishing Magazine), in 2010. Mary is also a contributing author to Barron's World Travel Atlas, Karen Brown's Northwest Guide, and Fishing Misadventures. Her latest book, Sport Fishing in British Columbia, was released in Spring, 2016.
Mary's professional memberships include the Society of American Travel Writers, American Society of Journalists and Authors, and Outdoor Writers of America. Her photography is represented worldwide by Getty Images.
---
Bring Mary's Presentation to Your Organization
From biking through the Andes to visiting the tribes of Papua, New Guinea, Mary's slide presentations earn great reviews. Mary frequently lectures on "Preparing for Adventure Travel" at fitness resorts as well as corporate and non-profit organizations. Contact Mary for more info: mary@peachin.com.
---
[/vc_column_text][vc_row_inner][vc_column_inner el_class="" width="1/3″][vc_column_text css_animation=""][/vc_column_text][/vc_column_inner][vc_column_inner el_class="" width="1/3″][vc_column_text css_animation=""][/vc_column_text][/vc_column_inner][vc_column_inner el_class="" width="1/3″][vc_column_text css_animation=""][/vc_column_text][/vc_column_inner][/vc_row_inner][/vc_column][/vc_row][vc_row full_width="" parallax="" parallax_image=""][vc_column width="1/1″][/vc_column][/vc_row]